Woman dates men for extra cash – and her boyfriend doesn't mind!
It's raised a few eyebrows...
Dating isn't about finding love for the gorgeous Marcia Favre! She's a professional dater, and goes out with rich, older men in exchange for cash.
33-year-old musician Marcia was looking for a way to earn some extra money when she first heard about the website whatsyourprice.com. The site lets generous men compete for women's affections by offering them money to go out on a date with them.
Cash-strapped Marcia was intrigued by the idea, and decided to give it a go. She explains, 'I was on a dating site once and I had a lot of traffic, a lot of people writing to me and I thought, 'you know what? I should get paid for this.'
'I think escorting is like arm candy and that's something I'm totally not interested in. If I can wrap the drink date up in 30 minutes, that's my goal!' 'Literally show up, have a drink, talk about nothing and get paid. It's pretty easy!'
Although she's clearly not interested in any of the men she goes for drinks with, Marcia has been paid $1500 for a single date, and has made a whopping £9000 in so far.
READ MORE: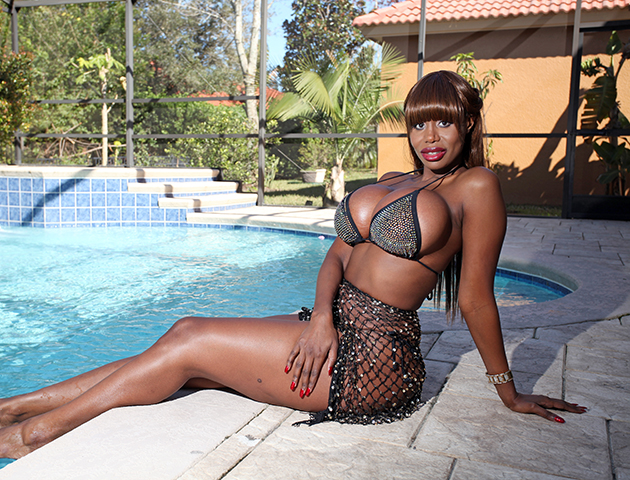 She says she's not a prostitute She knows how to get what she wants! 'I have never slept with any of my dates'
But there is one tiny sticking point, and that's that Marcia is not single.
Instead of using the money she makes from dating to treat herself, she spends it all taking her boyfriend of 10 years Joseph King out for dinner and drinks.
So what does he think of her controversial sideline business?
Marcia says, 'my boyfriend when I first told him – he kind of chuckled. He was like, 'are you serious? People actually pay to have drinks or dinner?'' 'He's supportive because it's quick money, it's easy money.'
Joseph adds, 'at first in all honesty it was interesting to wrap my head around, but once I thought about it I realised she's going out to have drinks so now she has money to take me out for drinks!'
'I'm totally fine with it.'
'Marcia is a grown woman and she's been taking care of herself in this city for her entire life. I'm not too worried.'
With Joseph's support and the money rolling in, Marcia has no plans to stop dating anytime soon – and she'd fully recommend other women try it out too!
'If you can, sign up and go on a date! I'd totally recommend it.'