'Everybody is scared of me' admits bullied boy with giant hands
A 12-year-old boy has left doctors baffled after his hands grew to a shocking 12 inches long.
Tarick, who lives in Uttar Pradesh, India, has suffered from the condition since birth.
His aunt, Pushpa explains, 'since birth, his hands were always big. As he started growing his hands got bigger. When his father was alive he took him to the local doctors a lot. But his father has passed away and he only has his mother now so he can't get any treatment.'
Unable to afford to seek specialist medial help for his condition, Tarick's family have dedicated themselves to helping the youngster with simple everyday tasks. His older brother, Hargyan explains, 'he has to face a lot of difficulties. It is hard for him to wash, he can't put on clothes – so I help look after him because he struggles to do anything.'
Sadly, these are not the only problems Tarick has had to face. His giant hands cause him discomfort and have made him a source of ridicule for cruel bullies.
He says, 'now I'm older, if I walk my hands start aching. I face a lot of difficulties. People make fun of me when I leave my house. When I go to the market people say, 'the boy with the big hands has come.' Everybody is scared of me.'
READ MORE: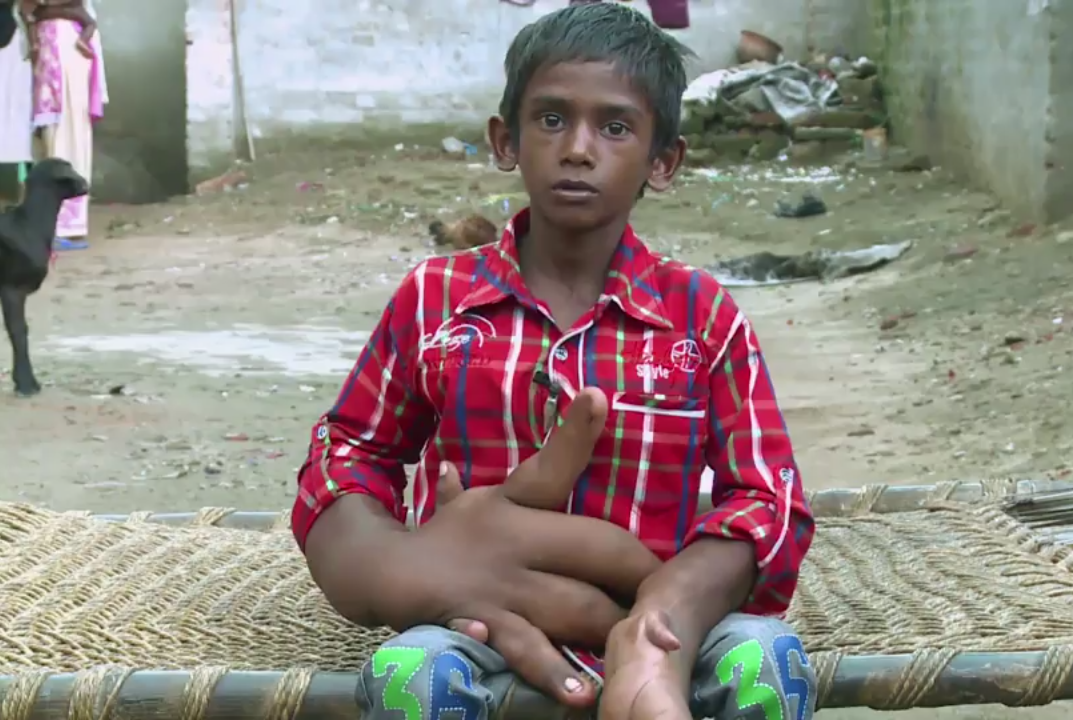 Coping with the unimaginable... People travel for miles to see him 'I had few friends in the beginning but now I don't have any. People are scared of my hands. I wanted to study but school refused my admission.'
'People think having this condition is a result of some curse. They don't know it's a medical condition and it can be cured.' 'It's just we don't have money for the treatment – doesn't mean it can't be cured.'
Recently, Tarik visited his local doctor Dr Pawan Kumar Gandhi who admitted that his condition was a 'mystery' to him.
He says, 'I have seen a few similar cases but they had Elephant Foot disease. His condition seems to be similar to that.'
But despite being unable to diagnose Tarik, Dr Pawan Kumar Gandhi refuses to rule out the possibility of one day finding a cure. He says, 'the chances are low, but nothing is impossible. In the age of science there is lots of research. So it is possible. Maybe if the latest and newest technology arrives something could happen. But he should definitely visit a doctor who is of a higher level.'
For now, all Tarick can do is wait and hope for a cure.
He says, 'if I could get treatment I would be able to do a lot more things. I would be able to earn bread and butter for my family and myself.'