32 stone woman is shedding the pounds thanks to sex with her toy boy lover
Patty Sanchez from Reno Nevada nearly ate herself to death after striving to be the fattest woman in the world to please her feeder ex-boyfriend.
'My weight when I was my heaviest was 722lb. When my ex-boyfriend and I broke up, and I ended up all alone I had no one to help me even get up out of the bed because it was that hard. That's when I made the conscious decision that I did need to lose weight to save my life.' 'I lost 245lb in 19 months. I didn't have weight loss surgery.'
Patty's extreme weight loss has given her confidence a huge boost – and she's even bagged herself a toyboy! 52-year-old Patty met 39-year-old Bryan Johnson on a dating website for big beautiful women.
'Our relationship progressed pretty fast. We talked a few months and within the next 3 months Bryan moved in with me. He left California and came here to me.'
And since Bryan arrived in Nevada, the couple have been very busy making the most of Patty's new lease of life! Bryan boasts:
'Our sex life is too hot for TV basically. I could say a few things but I choose to me more, you know – I'll keep some of that to myself! All I will say is that it's very active.' No more feeding for Patty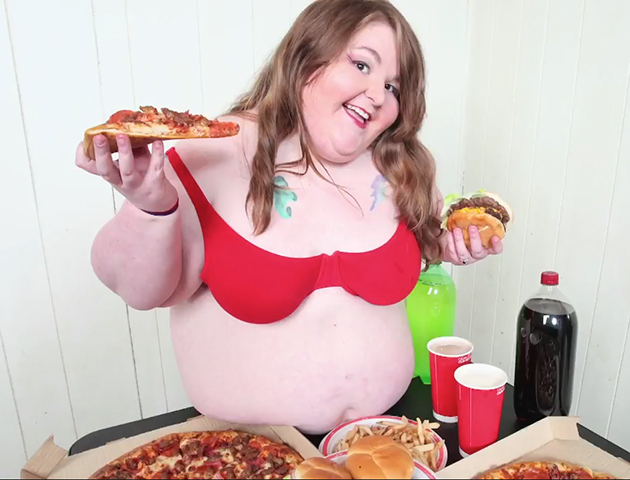 Caitlyn's on a mission to be big and beautiful…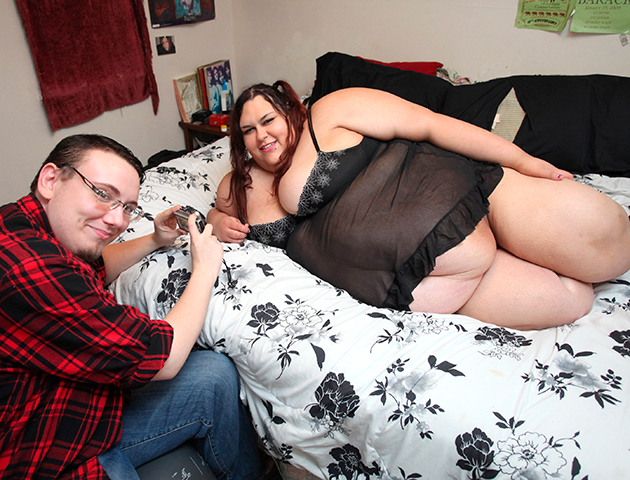 And her feeder boyfriend is happy to help
'Sexercise is a real thing. I mean if you're gonna exercise you might as well enjoy it!'
Patty is definitely not complaining! 'Our sex life is awesome. It's often, it's enjoyable, it's part of what I consider 'exercise' because he handles me so well and makes me move so much that I'm actually sore sometimes.'
It's not all sexercise though – Bryan is also helping Patty to shift the weight with more traditional workouts. And thanks to his motivation, she's now exercising for 20 minutes a day, 5 days a week. 'Losing weight and meeting Bryan has given me a better outlook on life. Because I have a reason now to want to stay happy for my weight loss, but also enjoying it with somebody that I really love. '
'I would love to marry Bryan. I love him that much. I scored big time – I won the gold medal in the Olympics of love!'