Woman speaks out about the painful reality of being born with two vaginas
She has suffered so much.
Nurse Nicci Triefenbach was born with a very unusual condition that affects less than 1% of all women worldwide.
The 32-year-old from Missouri first realised that something was seriously wrong when she was just 13-years-old.
Nicci explains, 'I first noticed something was wrong when I was bleeding more than I thought I should. The pain was intolerable. When I was on my period I could not function.'
Shockingly, after a trip to the doctors, Nicci discovered that the cause of her pain was down to having been born with two vaginas, two uteruses and two cervixes.
The rare condition, called uterus didelphys, sadly not only caused Nicci extreme physical pain throughout her teenage years but emotional pain too, as she struggled to come to terms with her diagnosis. She says, 'the hardest thing about the whole process is not feeling like a woman. With the whole two vagina thing you just feel, 'wow, I'm a circus freak.''
'And then there's the other aspect of trying to explain that to your partners before you have sex. Like, 'hey, I'm a little different down there!''
Thankfully, Nicci went on to find the love and acceptance that she always craved after meeting her now husband Andy Triefenbach. And he clearly couldn't be prouder of his courageous wife.
Andy says, 'I can't even begin to imagine what she's been through because I'm not a woman but I can get a glimpse of it because I can see the after effects of it. I love her and she's the one.'
'Nicci is really strong. I commend her for being as strong as she was getting through all this. I can only imagine how hard it was for her.'
Nicci sweetly adds, 'he's my rock. He takes care of me. He's never made me feel like a disappointment.' If having two vaginas wasn't enough to contend with, Nicci was also been diagnosed with endometriosis and has heartbreakingly suffered miscarriages in her quest to start a family with Andy.
She says, 'I've had three miscarriages. You get very desperate when you want to have children and you just wonder, 'what am I doing wrong? Why am I going through this?''
'My hardest and darkest moment was after my last miscarriage. I had been bleeding for 6 months straight. You're drained, you just want to be done and you have moments where you don't want to live but you know you have to.'
READ MORE: Discover every woman's hidden power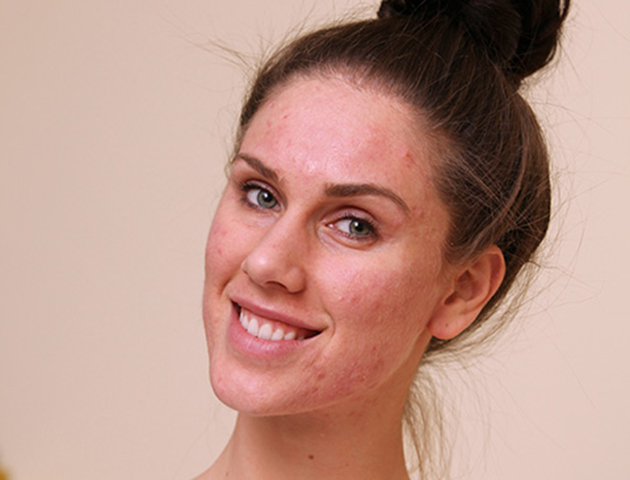 That explains the double periods...
'Staying strong is all I could do. Put on a fake smile and do what you've got to do to get by.'
Exhausted and drained by the daily agony and challenges that her conditions caused, Nicci recently made the difficult decision to have a hysterectomy.
She explains, 'It wouldn't be safe for me to try and have a child, nor would it be a good idea with the bleeding issues I was having. So I was 31 and had my mind set on having a hysterectomy because the quality of life wasn't good.'
'First I was OK with it but the feeling I felt knowing I could not have my own children – I kind of felt empty and like I wasn't really a woman.' 'My quality of life since the surgery has been fantastic. I'm happy and I can get healthy now. I have the energy to do so.'
Despite the tough times she has endured, Nicci wants to inspire other women with her positive outlook and hopes to one day to finally have a family of her very own.
She says, 'I want to adopt one day – hopefully soon!'
'There are so many women out there who have anomalies and don't feel like they have anybody.'
'You're not alone and you just got to be strong.'
You're not a circus freak if you're born with two vaginas. You're just different, and you've got to learn to work with it.'