Competitive eater can scoff 15,000 calories in one go – and he's still ripped!
Eyes as big as his belly!
Fitness fanatic and YouTuber Nathan Figueroa has been stuffing his face with as many calories as possible for the past 2 years.
The 29-year-old has taken part in over 200 eating challenges, and gained himself a dedicated online following along the way.
Proving that his eyes are never bigger than his belly, Nathan has completed challenges containing as many as 15,000 calories in just one sitting. His most impressive monster meals to date include an 80oz steak, and a burger and fries weighing 10lb. Nathan explains, 'what I enjoy about these food challenges is I get to eat large amounts of calories and that's not something that I eat on a normal basis. So for these challenges I get to eat all of them without a care.'
'The people who view my channel and food challenges are pretty surprised. It's a crazy thing when you see somebody eat large amounts of food. It's entertaining and gross at the same time.'
But how does Nathan eat such gigantic meals without piling on the pounds? He explains, 'a popular question is, 'how do I do these challenges, and how do I stay fit?''
'I go to the gym, I balance my diet, I make sure I don't consume crazy amounts of calories on the days I don't do challenges. As long as you can keep that in check with your fitness everything should be OK. It's all about balance.'
READ MORE: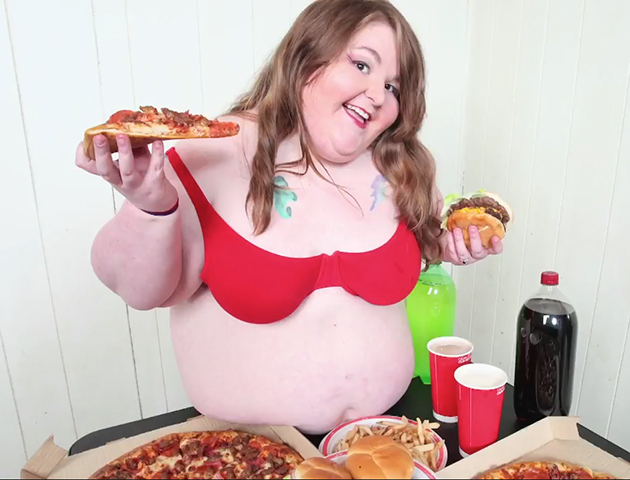 Caitlyn's on a mission to be big and beautiful… Has he bitten off more than he can chew!
Although you'd be forgiven for losing track of all the different mega meals Nathan has chomped down, there's one stomach-busting challenge that will stay with him forever.
He explains, 'my worst food challenge was a giant burger with 6 1lb patties stacked on top of each other, it also had a few lbs of fries so it was around 10lb.'
'I remember driving home from Port St. Lucie and on the drive home I felt like pulling over and cradling in a ball. It was just the worst feeling in my life. That night I got zero sleep because my stomach full.' 'I've never experienced that feeling after that and I hope I never do.'
For now, Nathan plans to carry on travelling the world trying as many food challenges as possible, but he won't be devouring giant meals forever.
He says, 'will I ever stop food challenges? Absolutely I will, obviously you can't do this forever.'
'I feel like when I get to my early thirties I will slow down, maybe do challenges once a month, I've got to maintain my health later on in my life.'
To check out more of Nathan's incredible food challenges, subscribe to his Youtube channel and watch the video above to see him in action.