Meet the 'feminist' sugar baby who wants to empower other women
She knows how to get what she wants!
25-year-old Jeanemarie Almulla lives a life of luxury – spending her days shopping for designer handbags before going home to her plush penthouse on Miami Beach.
But she's not the one paying for her lavish lifestyle! The aspiring singer is funded by a handful of sugar daddies who care for her every need.
Aspiring singer Jeanemarie first made this unconventional career choice after her divorce left her short of money.
She explains, 'my friend was like, 'you should go on Seeking Arrangement – It's this dating site where there's sugar daddies. It's pretty perfect for you actually because you have a fun personality and you like to go out.'' And she's been embracing the sugar baby lifestyle ever since!
She says, 'A sugar baby is someone, a girl or a guy, who utilises her youth, her intellect, her personality to get what she wants.'
'If someone wants to help you because you're smart, because your beautiful or for whatever reason, and they have all this wealth – why shouldn't they help you?'
'A lot of people confuse it with prostitution. A prostitute is someone who shows up, does a job, takes money and leaves. A sugar baby is nothing like that.'
'A typical interaction with a daddy is, I meet them, go to a nice restaurant to have a lunch or a dinner and talk about travelling. I speak three languages, I have a bachelors degree in International Relations – so there's so much for me to talk about. Then after we eat I will say, 'lets go shopping!''
READ MORE: 'I have never slept with any of my dates'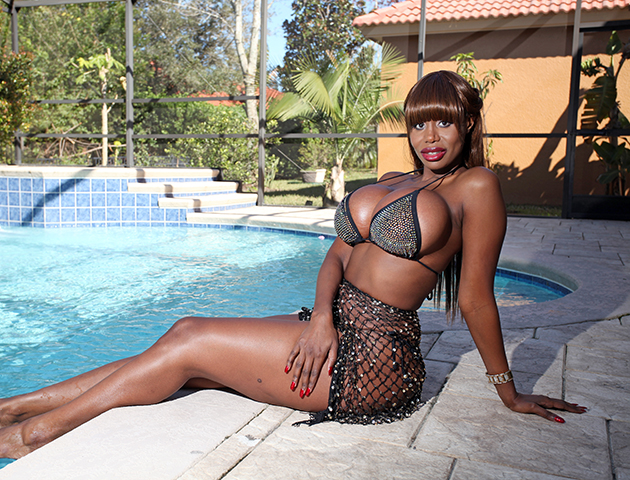 She says she's not a prostitute Jeanemarie has even got a tip for anyone who's hoping to follow her lead – so what does she consider the key to meeting sugar daddies online?
'Slutty photos – that is the key to this thing. The sluttier the better!'
Living the life of her dreams, Jeanemarie clearly feels like she's got the whole world at her fingertips – but before you think you've got her all figured out – she is also an advocate for a cause that might surprise you! She says, 'when I was 15 I started competing in beauty pageants and they ask you to have a platform. A lot of girls chose like breast cancer awareness, animal rights but I chose learning how to love yourself, feminism, women empowerment.'
'So I started this organisation, Empowering Young Girls organization, and I wrote a book that I give to Girl Scouts, called Footsteps of Confidence'
'It's a step-by-step guide on how to love yourself and that's just the most important thing to me in this world. I just think as women we have to stick together and we have to bring each other up.' Despite her feminist views, Jeanemarie's lifestyle is certainly controversial – but what would she say to anyone who criticises her for being a sugar baby?
'I hear a lot of negative things about the site, about me as a sugar baby but at the end of the day I love myself. I have no shame in what I'm doing.'
'I really don't care what other people think about what I do. But what do they think? They think I'm smart. They think that I'm a genius.'
'I want my story and everything I do to empower people to love themselves and know you can be anything you want – you just have to follow your dream.'