This long-limbed mum might just have the longest legs in the world!
39-year-old former model Caroline Arthur stands at a statuesque 6ft 2in tall, whilst her endless pins make up a whopping 69% of her frame.
She explains, 'so my legs from hip to the ground when I'm standing up are 51.5in when last measured. So I believe that they are amongst the longest in the world – definitely in Australia as far as I know.'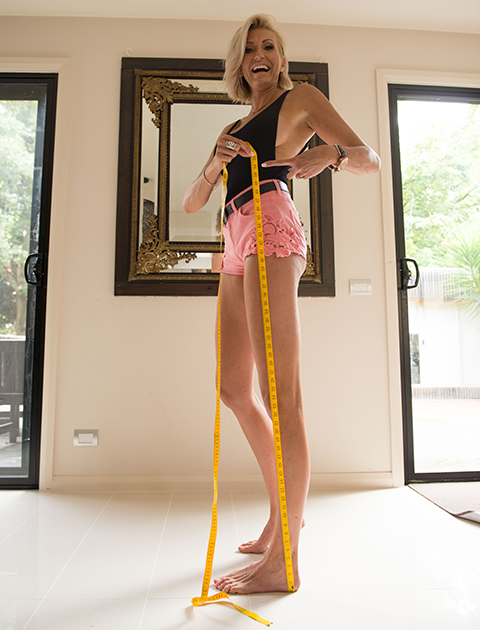 'I think I am going to try to contact the Guinness World records. The lady who's in there at the moment with the Guinness World Record is 51.9in so with it being so close it's worth contacting them and just finding out.'
'When I realised that my legs might be the longest in the world I was super excited!'
But having such lengthy pins can be a irritating for Caroline, as she finds it tricky to find clothes that fit.
'As long as I remember I haven't been able to purchase clothes.' 'When I was maybe in primary school I had to buy clothes that were way too big around my waist to get the length in. So say I was 12 years old I was buying 16s and 18s to try and get the leg length.'
Caroline has two children with her husband Cameron, both of which have clearly inherited their mum's tall gene!
She says, 'my son is 13 and he is the same height as me. My daughter is tall, not as tall – we call her the midget of the family as she's only 5ft 9in!'
READ MORE:
Although Caroline's kids might be nearly as tall as their towering mother, Caroline's own mum Janet Ware is a pint-sized 5ft 3in tall.
Caroline says, 'my mum if 5ft 3in I think, so she's tiny. When we go out shopping together people don't believe that we're mother and daughter because she literally fits under my arm.'
One thing is for sure – and that's that Janet couldn't be prouder of her leggy daughter!
Janet says, 'she obviously doesn't get her tallness from me! She was always taller than all her friends.'
'I'm really proud of her, I love going out with her and seeing the reaction of people to her. I often walk a few paces behind just to see the reaction of people when they look at her.' Despite feeling confident in her willowy frame now, Caroline was conscious of her extra height growing up before modeling helped improve her confidence.
'Growing up I think I always feel like I've been tall. My nickname in primary school and secondary school was 'Caroline The Power Line'. I did feel awkward and unattractive and I did have a real stage where I didn't feel beautiful. I think I was 15, I think that was when I started modeling, and it just went from there.'
Luckily – Caroline now loves her lean legs, and now feels more confident than ever.
'I can honestly say now as 39 year old woman I am the most secure in my own skin that I've ever been and I feel more beautiful than I ever have in my life.'
'I really embrace my height, I love my height and I'm very proud to be tall.'