He blew £30k of his mum's money on jewellery, clothes and computer games. Now Shelley Roylance, 61, from Plymouth tells her story...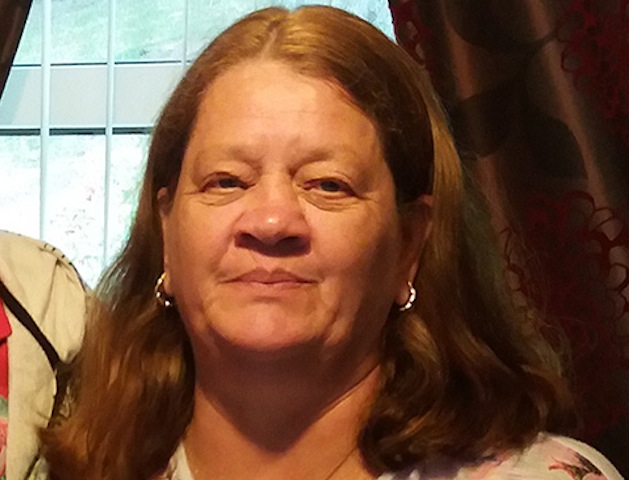 I'd told the kids the story a hundred times…How I'd met their dad in a club called Rooftops back in 1973.
How it was love and first sight. And how he'd proposed just two weeks later. 'After that, it was happily ever after,' I'd said.
Now it was October 2012. The kids were all grown up. And, after 39 years together,  I'd lost my Rob to cancer. He was just 58.
'We're here for you, mum,' my youngest lad, Pete, 37, promised. Pete and his wife, Helen, had been angels.
Rob had wanted to be cared for at home, so Pete came every day to lift his dad in and out of the bath, and cheer him up.
Rob had been a caretaker at a local primary school. But when he was younger, he'd been a gunner with the Royal Navy. We'd listen as Rob talked about how he'd seen the world.
'Promise me you'll go to Hawaii one day,' Rob said. It was his favourite of all the places he'd visited with the Navy.
Our daughter, Amanda, 39, was there with a shoulder to cry on, too.
Then there was our oldest, Paul, 42. Rob and I had loved him to bits. But he given us grief growing up.
'My hair's gone grey worrying about you,' Rob always teased.
Now Paul had settled down with a wife and baby son of his own, he'd grown up.I could depend on him, too. 'Whatever you need mum,' he reassured me.Still, I struggled.
Life without Rob was so empty. And there was so much to do. So many people to tell – the bank, the council…the list was endless. There was Rob's estate, too.
He'd taken out a life-insurance policy years before. That, combined with his pension, meant he'd left me around £65,000.
Sounds daft, but it scared me. I'd never had money like that before.
'I don't want to waste it,' I told the kids.Trouble was, I'd no idea how to manage it.So I thanked God for Paul. 'I'll look after it for you,' he said.
I decided to keep £5,000 and transfer £45,000 to Paul, having already shared the remaining cash between the kids and the grandchildren, as a little something for them from Rob.
Paul would pay me a small allowance every month, and give me larger amounts as and when I needed them. It'd help me to get by, as I'd given up my cleaning job to care for Rob.
Then, I had an idea. Hawaii! I'd use some of the money to take the family on a trip there. But Paul was suddenly the voice of reason.
'Don't rush into anything,' he urged me. 'Okay, love,' I nodded.
A month on, Paul didn't give me my allowance.
'Maybe you should try to get by on your own,' he said. 'Economize a bit…if you want to go to Hawaii.'
The following month, he didn't pay it either.
'I need it to pay my electric,' I explained.
Paul wouldn't listen, so I asked Pete to have a word. Paul wouldn't budge though. Without Rob, I was finding it hard to make ends meet. I needed that money. 'Please, love,' I said when I called him. But Paul refused.
By January 2013, Paul hadn't given me anything.
Stressed after losing Rob, I'd been diagnosed with depression, and hadn't been able to work. It meant money was tight. In the end, I had to sell my wedding ring to cover my electric bill. But still, Paul wouldn't help me.
Months went by. Then a year…
'I think you should call the police, mum,' Pete said in January 2014. On my own son..? But what choice did I have?
I thought officers would have a word with Paul, then he'd give back the money. It'll all be fine in the end.
But, a week on, an officer called. 'We've arrested Paul,' he said.
I felt my knees buckle as the officer explained all the money was gone. 'What do you mean?' I asked, my pulse quickening. 'He's spent £30,000 of it,' the officer replied.
My head swam. If Paul had needed the money, all he had to do was ask. I'd give my kids anything. Instead, he'd stolen from me. And from his dad.
When I tried calling and texting him, I got no answer. I felt hurt betrayed – even more so because Paul made no attempt to apologise.
In the weeks after, we discovered Paul had blown £5,700 on jewellery, £6,000 on of Sony equipment, £1,500 on computer games. The rest went on fancy designer clothes.
'But I told him I was selling my wedding ring for the electric,' I cried. Worse, Paul had no way of paying the money back.
A year on, in March 2016, at Plymouth Crown Courtmy son Paul Roylance pleaded guilty to theft.
I hadn't seen or heard from him since his arrest. Pete and Amanda went to the court hearing. I couldn't bear to. But I'd have forgiven Paul, if only he'd said he was sorry.
Paul was sentenced to 20months in prison. Pete and Amanda were seething with anger over it. My heart broke, because I agreed with them. It wasn't justice, but I still loved Paul. It's what mums do. But the whole thing has hit me so hard.
Rob's gone. And in a way, I've lost Paul, too. And I don't think we'll get to Hawaii now. There isn't the money to pay for it.
Paul always was my wild child. Now, he feels like a stranger without a heart. But a stranger I'll always love, in spite of everything.
Sentencing Paul Roylance, Judge Paul Darlow said:
'You spent large sums of money on luxuries. You took, as far as anyone can assess, £30,000 from your vulnerable, depressive victim. You plundered that money at will. The purpose of this sentence is to mark society's disgust of your treatment of a vulnerable and elderly woman.'