Forget a wedding cake and first dance. These couples missed out on lavish big days to get hitched in jail…
UK: A criminal marriage
In 1997, Mikhail Gallatinov was jailed for murder. He'd met his victim through a gay chat line, before luring him to his home and strangling him.
Ten years on, Marc Goodwin was jailed for life serving a minimum of 18 years, for murdering a 57-year-old man, who he'd beaten to death.
Goodwin was reportedly the leader of a gang that roamed the streets of Blackpool looking for homosexuals to attack. His trial heard that he and two friends had agreed to go 'gay bashing' when they killed the man.
Two violent killers jailed…
But unbelievably, when they met each other behind bars, they fell in love. And in February 2015, they married in Full Sutton Prison near York, in a 15-minute ceremony.
The wedding was attended by other prisoners wearing suits and a few family members. The criminal wedding was the first same-sex marriage to take place behind bars.
Though the men weren't allowed to share a cell after, the wedding caused uproar amongst their victims' families.
The sister of Goodwin's victim told Press: 'I don't object to a prisoner having a wedding, but when its two murderers getting married to each other, that's wrong.'
Indonesia: Til death do us part
Febyanti Herewila was thrilled to be marrying the man she loved. A Javanese Princess, she was also a pastor for 10 years. But instead of marrying her fiance in a lavish ceremony befitting her status, Febyanti married him behind bars…
Andrew Chan was a convicted drug trafficker who'd been sentenced to execution by firing squad in 2006 in Indonesia. Febyanti met him in 2012 after she began preaching at the prison in Bali as a volunteer pastor.
'You come all the way to find your soulmate here in prison?' Chan reportedly joked to her. The pair hit it off and in February 2015, Chan proposed. Their visions were spookily accurate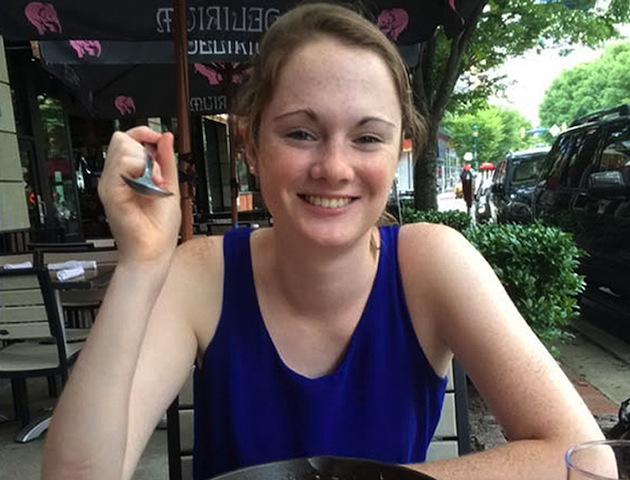 Why did he murder innocent young women?
Despite appeals for clemency failing, Febyanti couldn't wait to marry her criminal boyfriend. And in April 2015, they tied the knot in a service at the prison.
But instead of wearing a flowing white gown, and cutting into a wedding cake, the prison service was short and simple.
And in a chilling twist, instead of honeymooning together like other newlyweds, Chan was executed just 24 hours later.
Before his execution, Febyanti reportedly said to Press: 'I have never seen him as just a prisoner or someone who is on death row. I love him for who he is. And I see what he does for other people and that makes me love him more.'
Peru: Prison, wedding and a baby
Trainee accountant Leidy Figueroa wasn't looking for love when she visited a friend in prison in Peru. But she soon caught the eye of convicted killer Joran Van der Sloot.
In 2012, Van der Sloot pleaded guilty to killing a Peruvian business student, Stephany Flores Ramirez, 21. He was sentenced to 28 years in prison.
But the prison conditions were more relaxed than other countries. Loved ones and relatives could visit prisoners in their cells.
So when he and Figueroa began chatting, the couple were able to spend time alone in his cell together. She knew about his past, but didn't judge him. She soon fell for him and then discovered she was pregnant.
The couple decided to get hitched behind bars. So in July 2014, when Figueroa was thought to be six months pregnant, she married her murderer boyfriend. Just a few months later she gave birth to their baby daughter.
In an interview with Press, Figueroa said, 'My Joran is no monster. We don't speak of the past. We only speak of the present and the future.'