With wedding season in full swing and stressed and nervous brides a plenty it's only a matter of time before the dreaded Bridezilla emerges. You're thinking 'wedding' 24 hours a day and after 18 months of listening to you, you realise your friends are starting to get a little bored. You know you're obsessively calorie counting, manicly exercising and generally over stressing about EVERYTHING. Check out these classic tell tale signs that you are turning into the ultimate Bridezilla...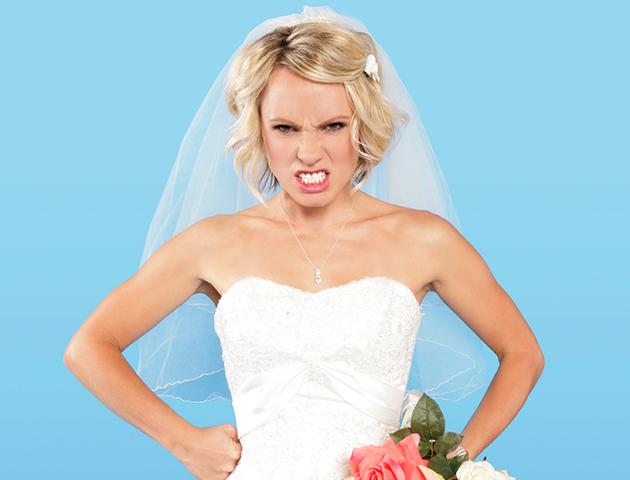 1. You've asked your fiance for the 400th time if he's sure about your colour scheme 2. Chair cover decisions are taking over your life 3. Your future hubby has managed to locate the addresses of his 2 aunties. You've done the other 148 guests. 4. Your worrying if your bridesmaids will all get along?! 5. You get accused of being over sensitive when you ask an opinion on your wedding shoes 6. You're having anxiety dreams about not getting into THE dress 7. You're worrying about looking too pasty in the photos… 8. A guest asks if they can move seats after they've seen the table plan 9. Your seriously worried the photographer hasn't made a note of your best side 10. You're obsessively studying the long range weather forecast (by the hour) 11. Your friend forgot to tell you her boyfriend was gluten free… 12. Someone irrelevant dares to point out to you that it's just one day… 13. You've spent a fortune on flowers and now the pollen forecast is saying very high 14. You've fallen out with the make up artist after your trial AND you've meticulously planned for every eventuality so what could possibly go wrong…?!